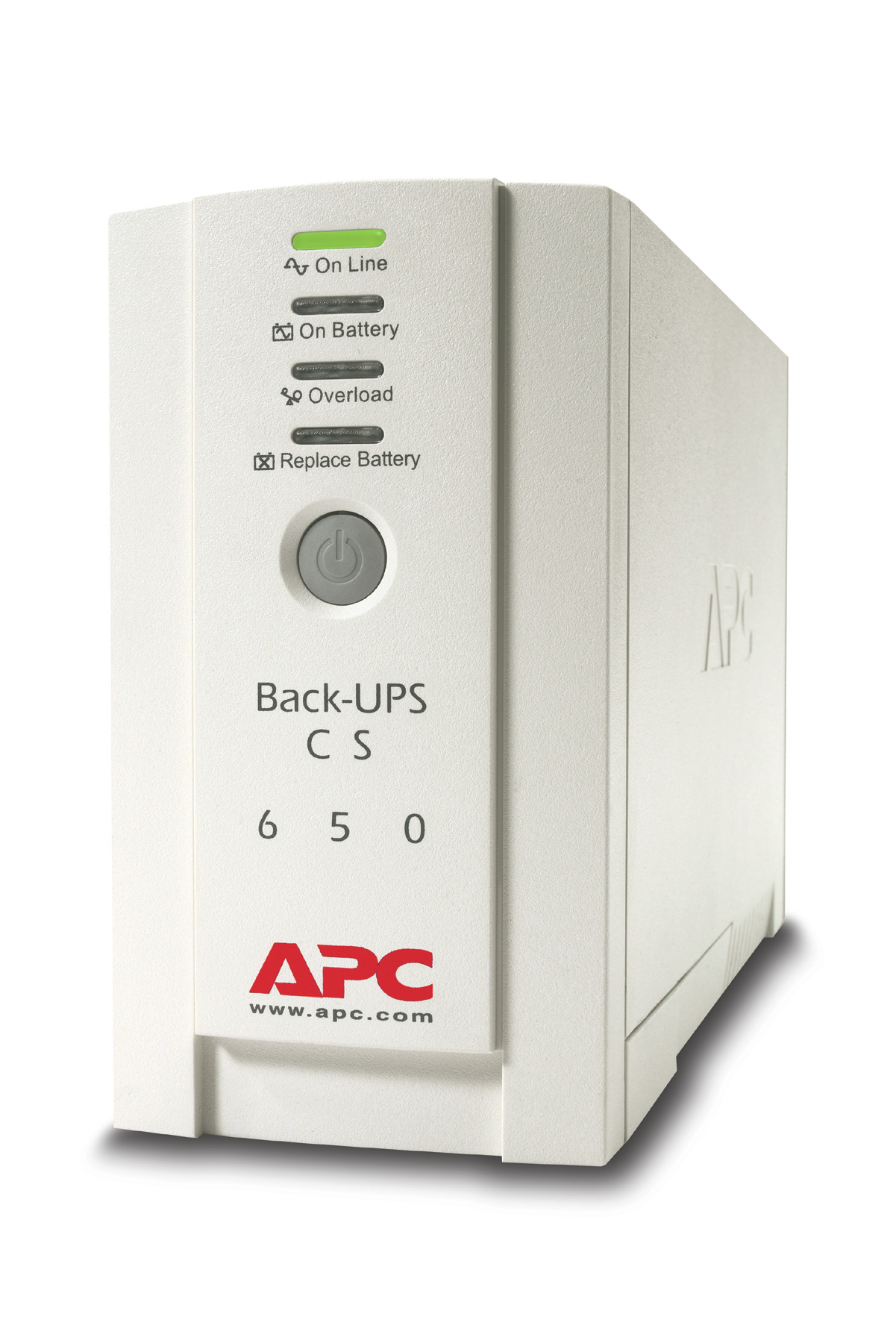 APC Back-UPS 650, 230V...
< OVERVIEW BK650EI >
UPS CS provides professional-grade power protection for office and home office systems. Battery powered and surge protected power outlets, built-in phone/fax/modem line (DSL compatible) protection, safe system shutdown software with sophisticated power management features and pro-active audio-visual status indicators ensure office systems and their valuable data are protected from dangerous power surges, spikes and blackouts. Serial or USB connectivity gives users more flexibility making installation quicker and easier. Easy access to a hot-swappable, user-replaceable battery also makes servicing the Back-UPS CS hassle-free. These features along with its classic styling make the Back-UPS CS a perfect choice for protecting your important office and home office systems.
Back-UPS Features & Benefits
Battery failure notification
Provides early-warning fault analysis on batteries enabling timely preventive maintenance
Intelligent battery management
Maximizes battery performance, life, and reliability through intelligent, precision charging.
Periodic battery self-test ensures early detection of a battery that needs to be replaced.
Marketing Features
Battery-protected and surge-only outlets
Reserves power capacity and run time for connected equipment that require UPS battery back-up while providing surge only protection for less critical equipment
Manageability
Provides notification of changing utility power and UPS power conditions
Quickly understand unit and power status with visual indicators.
Protection
Battery and surge protected outlets
Back up and protect your hardware and data during power outages, surges and spikes.
Protect secondary electronics from surges and spikes without reducing battery power used to run primary electronics during an outage.
Safety
Ensures the product has been tested and approved to work safely with the connected service provider equipment and within the specified environment.
SPECIFICATION
| | |
| --- | --- |
| Device Type | UPS - external |
| Weight | 6 kg |
| Load Rating | Individual PC |
| Input Voltage | AC 230 V |
| Output Voltage | AC 230 V |
| Power Capacity | 400 Watt / 650 VA |
| Input Connectors | 1 x power IEC 60320 C14 |
| Output connectors | 1 x power IEC 60320 C13 (surge) ¦ 3 x power IEC 60320 C13 (UPS and surge) |
| Battery | Lead Acid |
| Battery Form Factor | Plug-in module |
| Batteries Qty | 1 |
| Run Time (Up To) | 2.4 min at full load |
| Networking | RS-232, USB |
| Colour | Beige |
| Dimensions (WxDxH) | 9.1 cm x 28.4 cm x 16.5 cm |